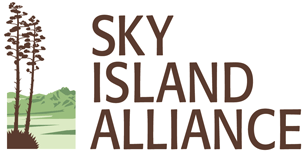 Program Director
Agency: Sky Island Alliance
Location: Tucson, Arizona
Consideration of applicants will begin March 6
Salary: $50,000 – $70,000 with benefits
Job Type: Exempt Full-time
POSITION OVERVIEW
We seek a personable professional with a hunger for solving big problems, who loves working in a collaborative team setting and is interested in shaping the future of the Sky Island region. The Program Director will play a critical role in integrating diverse initiatives (including initiatives in Mexico) into a comprehensive program of work to achieve our strategic plan.
Major initiatives include: conservation of connected open space to provide for wildlife and sustain biological diversity; protection and restoration of critical water sources to increase water availability for the environment; promotion of ecosystem resilience to address the impacts of climate change and other drivers of change. This individual will provide collaborative leadership and scientific expertise to achieve large-landscape transboundary conservation. We accomplish this through citizen-science monitoring, policy initiatives, climatesmart restoration of ecosystems. This person will collaborate with a diverse number of organizations and individuals to promote the appreciation of the uniqueness of the Sky Islands among local residents.
QUALIFICATIONS
Demonstrated ability to develop strategic direction at the organizational level; manage program staff; and develop and implement organizational strategic plans, work plans, shared agreements and best practices.
Academic and professional background in conservation, natural resources management, or related field, including Master's degree or equivalent professional experience.
At least five years of experience in science-based collaborative conservation or similar, including program management, preparation of budgets, and personnel management.
Demonstrated track record of successful grant writing to fund programmatic initiatives.
Familiarity with environmental policy, conservation biology and ecological restoration.
Must have a good working knowledge of water, climate change adaptation, public and private lands conservation, large-landscape conservation, wildlife connectivity, and biological diversity.
Ability to convey information clearly via excellent written and oral communication skills.
Ability to travel within Sky Island region to conduct field weekends and multi-day trips.
Strongly preferred: Fluency in Spanish; demonstrated understanding of conservation approaches and strategies appropriate to achieve conservation goals in Mexico.
Go here for more information.